sábado, dezembro 20, 2008
E COMO DEVO ME AUSENTAR PELOS PRÓXIMOS DIAS (ATÉ O ANO QUE VEM)...
.
deixo uma reflexão para o Natal e o Ano Novo:
.
The conversion of French writer Paul Claudel was sudden and profound. On a Christmas Eve when he was 18 years old, he attended Vespers at Notre Dame de Paris. As the choir was singing the Magnificat, he writes, "In an instant, my heart was touched and I believed. I believed with such force, with such relief of all my being, a conviction so powerful, so certain and without any room for doubt, that ever since, all the books, all the arguments, all the hazards of my agitated life have never shaken my faith, nor to tell the truth have they even touched it" (*). (de um texto que recebi na semana passada, chamado: Beauty Will Save the World, by Cherie Peacock)
.
(*) a melhor descrição (ou explicação) de fé que já encontrei.
.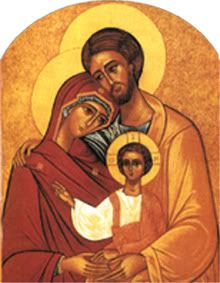 .
E a mesma imagem do ano passado, pois ainda não vi imagem mais bonita que esta. Que tudo o que ela transmite, entronize em nossos corações.
.
Comments: